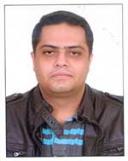 Hi,

The only thing you have told me is that you have raised urea and creatinine and levels which are alarming for your age and you also told that you are a diabetic taking insulin.

There are a number of causes of raised urea and creatinine (but since you told me just about your diabetic status so I have no other option except to take it that you are having renal failure due to diabetes)

Rest try and follow following things to manage cardiovascular disease risk factors such as:

1. Avoid smoking - for people with diabetes, smoking can speed up damage to the small blood vessels in the body
2. Monitor blood pressure regularly(try and maintain it in limits)
3. Maintain a healthy diet and get regular exercise
4. Limit alcohol intake
5. Follow recommended treatments for chronic diseases such as diabetes, lupus, and hypertension
6. Don't have drugs with over the counter prescription
7. Get treatment for urinary tract infections or any type of urinary problems as soon as possible
8. Avoid having protein excess in your diet(non veg stuff)
9. if your body is unable to eliminate water,then try limit your water intake
10. void having any frozen products(they are rich in potassium)

These were the general recommendations. Rest it would depend on the cause.
I have also heard about coriander juice but I have never noticed result by it.

Take care.