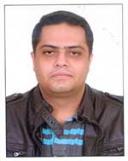 Hi,

You told me that your father is having hallucinations(he sees what is not there actually),these are commonly seen due to hyperosmolar, hyperglycemic , nonketotic syndromes.

The cause of hallucination is usually rapid rise in blood sugar.(the cause might be some exisiting infection in body). I have never heard of hallucination due to electrolyte imbalance,however you may get it checked as(electrolyte imbalance) definitely can cause confusion.

Rest if he has very high blood sugar, dehydrated, thirsty again and again, have high fever, giving toxic look then kindly consult a doctor.

Keep a continuous blood sugar check up(regular monitoring) and keep it within limits. You don't have to be fasting for getting sodium levels checked. Have regular intake of fluid but without alcohol or caffeine.

Feel free to ask more questions.