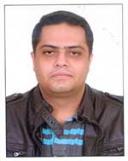 Hi,

Please attach the photo of your thigh area , you might be having a fungal infection and if you are applying this cream then you are actually worsening the infection , the cream(candiderma) would improvethe disease only for a short while and disease would happen to you once again after a few days and next time the disease may involve more area
Try to attch as clear photos as possible.
I hope you are not having any ulcer or any bleeding or any discharge from penis.
Also try to note whether the disease has margins and involves a fixed area or not and if margins are more active of the disease or the center is more active.