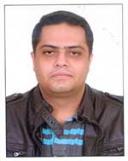 Hi,

The easiest way to gain weight is to add calories to your diet. For every kg of weight gain you will have to add about 1500-2000 calories to your diet. Your diet must include at least three basic meals, and two snack meals, which should include high calorie diet, shakes, ice cream, butter, oil, cheese, dense potato, spreads and bread.

If you are not gaining weight even after increasing your diet, then you should have a medical check up done to investigate the root cause.as there are many causes of weight loss,hyperthyroidism,tuberculosis,liver disorder,anorexia nervosa ) so as per the reports and your examination treatment will be given
You can try protein shakes available at any gym, and the above diet with a good work out plan,(as exercise will make you gain muscle mass) will help you gain weight
do you think you feel depressed,stressed,or you might be having problem with your stools,is your underweight genetic,are you anemic,are you allergic.if anything significant please let me know,do you have any repeated vomiting or did you face any problem in development like periods or breast development might have been a little later compared to friends ?
do you get tired very easily ?
do you have any difficulty in sleeping ?
You also did not tell me about your weight (what exactly is your weight ?
Drugs can also be added but you should try the above things first.