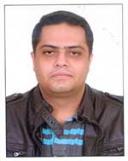 Hi,

Most common cause of small height is inherited from parents,but since your parents have a good height i would recommend you to get your hormonal tests like growth hormone or consult an endocrinologist because they might be really helpful to you,since your height is to small as compared to your parents.
The problem can also be related to your spine but spine can never make such a big difference to your height.
The tablet you are taking is fine and can be taken for a few months,you should avoid such drugs if you are suffering from migraine and any bleeding disorder and can disturb your kidney functions,so if you have then keep your self tested regularly.
Taking calcium and growth flex tablets,such products usually won't make such a difference(around 2 inches) to your height.
Yoga and doing regular excercise can reduce your pain and symptoms but they can't solve your problem.
You should visit an orthopedic surgeon,he will get your spine x-rays and may be if your spine is to curved,then he might recommend you surgical treatment or may be bracing.