Get Your Clinic Microsite
Get instant online presence and start accepting online appointment booking from your microsite which is tighly integrated with iClinic software so that you can see all online appointments within your scheduler along with your regular appointments.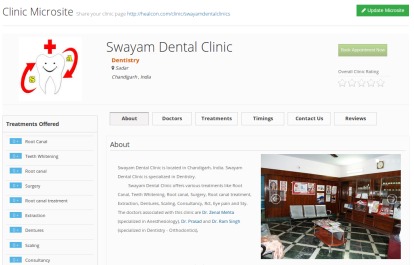 Stay Connected
With iClinic social media sharing platform you can staty in touch with prospective patients like never before .Also you can write blogs,articles on your micro-site which will be instantly shared across multiple social platoforms to get instant visibility to your clinic.
Online Appointment Booking
Patients can book appointments with the clinic online from clinic's microsite and all booking made shows up instantly in the software.
Patient Feedback/Survey
Doctors can collect patient feedback and patient survey right from the software about treatments in past.Good way to know how happy patients are with your treatment.
SMS Reminder
SMS reminders regarding all critical events happening in iClinic software forms the base of quick comminication .
Go Social
iClinic provides platforms to make sure your clinic gets its share of visibility in social media circles.